Kaua'i is visually stunning and rich in history from ancient to modern times. Stone works and taro terraces tell its history and you'll also find it in letters among missionary families, in milling stones saved from early sugar plantation days and in the first-hand accounts of Kauaians who recall defensive barbed-wire fences strung on beaches during World War II.
---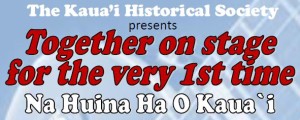 Saturday, May 9, Musicians, Melodies and Memories
This is the Kauai Historical Society Spring fundraiser pa'ina at Smith's Tropical Paradise, 5:30-9:00. Some of Kauai's favorite musicians from all parts of the island will come together for a high-energy concert of Hawaiian music. Buffet dinner, no-host cocktails, silent auction. Musicians confirmed to date: Darryl Gonzales, Kirby Keogh, Pancho Graham, Garret Santos, Dennis Chun. More musicians to come. Reservations $85 per person. Bring ukulele, guitars, hula for great Hawaiian jam.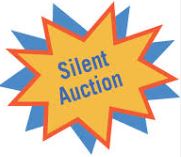 The silent auction will be a lot of fun. Here are some of the items what will be available:
Kamehameha Publishing: three books
Lawai Beach Resort: Certificate for 2 nights in 1 bedroom unit
Grand Hyatt Kauai: Weekend stay, run of the house; $200 certificate for Tidepools, 1-day pool pass
Restaurant Kintaro: 4 certificates, $25 each
Poipu Bay Golf Course: two rounds of golf
Aqua Hospitality: two nights at Kauai Shores Hotel, 1 room
---
Support your Kauai Historical Society by treating yourself to these fine publications. View recent articles about the Kauai Historical Society here. Kauai Historical Society will switch to electronic newsletters by the end of the year. Sign up now. View the Kauai Historical Society online library catalog.
---
KAUA'I HISTORICAL SOCIETY POSITION ANNOUNCEMENT
The Kauai Historical Society is seeking applications from qualified persons to serve as Administrative Director and librarian for the Society's research library and archive on the history of Kaua'i and Ni'ihau. Applications will be accepted on a rolling basis until the position is filled. Please email cover letter and resume to khsposting@gmail.com Duties include:
Apply for and administer grants
Serve as librarian for Society's publicly accessible research library and archive
Administer operations of the organization, including budgeting and expenditures
Organize and implement Society projects and programs
Manage publications programs
Oversee office operations and supervise staff and volunteers
Desirable qualifications:
Grant-writing experience
Library or archives experience
Familiarity with history and culture of Hawaii and Kaua'i
Good written and verbal communication
Good management skills
Work experience with a non-profit
Ability to work effectively in collaboration with diverse groups of people
Fund-raising experience
---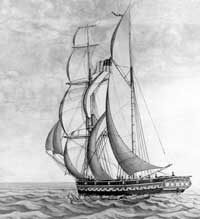 Our Physical address is: Historic County Building 4396 Rice Street Suite 101 Lihue, HI 96766 Hours of Operation Monday-Friday, 10:00 am – 4:00 pm. Research by appointment only. ($35 research fee for non-member, free for members) You can find this and more at the Kaua'i Historical Society. Please join us on our journey to collect and preserve the unique history of Kaua'i. At the Kaua'i Historical Society, we're bringing history to life!
Kaua'i Historical Society P.O. Box 1778, Lihu'e, HI 96766 Telephone: (808) 245-3373 Fax: (808) 245-8693 Email: info@kauaihistoricalsociety.org Note: The Hawaiian language uses two special diacritical marks. The kahako ('macron' consisting of a horizontal line over the vowel) lengthens the pronunciation of the vowel on which it is placed. The 'okina (glottal stop, or hamza) signifies a clean break between two vowels. As precise Hawaiian spellings have no counterpart in HTML, we have taken liberties with the Hawaiian diacritical marks to enable the maximum number of users to enjoy the site. The single open quote (') will be used for the 'okina, and the macron will not be used. For those who want more information on the Hawaiian alphabet, language and pronunciation, visit this site or call the Kaua'i Historical Society for more information.